Zhanjiang's trade with countries and regions involved in the Belt and Road Initiative skyrocketed in the first quarter of this year, propelled by the southern port city's enhanced efforts to increase its imports and exports.
According to the latest local customs statistics, trade between Zhanjiang and countries and regions participating in the BRI reached 2.5 billion yuan ($372.1 million) from January to March this year, up 44.6 percent year-on-year and accounting for nearly one-third of the city's total trade volume in the same period. Exports increased by 22.1 percent year-on-year to 1.5 billion yuan, while imports doubled to 1 billion yuan, as per official figures.
The city's exports focused on machinery, furniture, steel products and paper while imports were mainly aquatic and marine products, coal and sugar.
The Association of Southeast Asian Nations has been the largest trade market of Zhanjiang among regions involved in the BRI. Trade volume with the region accounted for 50.7 percent of the city's total foreign trade of 1.27 billion yuan in the first quarter. It was followed by India, Saudi Arabia and Russia.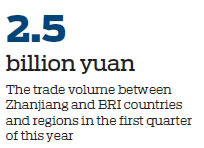 As the only hub city in west ern Guangdong involved in the 21st Century Maritime Silk Road, the city has experienced great opportunity to increase its trade relationship with the world by strengthening its port.
As Zhanjiang is between the Guangdong-Hong Kong-Macao Greater Bay Area and the cluster of cities in the Beibu Gulf, it can become a hub along the South China Sea to link these areas with the BRI regions, said Mayor Jiang Jianjun.
Jiang told the media earlier this year that Zhanjiang Port, which ranked 11th in cargo throughput in the Chinese mainland in 2018, will intensify shipping lines with the Greater Bay Area cities and Hainan province to jointly develop the markets of BRI regions.
"Ultimately, Zhanjiang Port will play a bigger role as an influential international port," Jiang said.
A project to upgrade Zhanjiang Port, which aims to serve up to 400,000-metric-ton vessels, up from the current capacity of 300,000 tons, is expected to begin soon.
So far, Zhanjiang Port has about 40 shipping lines for container vessels, including 15 international lines.
The port offers convenient sealand shipments to China's central and southwestern regions, including Guizhou, Yunnan, Hunan and Chongqing for cargoes from and to ASEAN, Africa and Europe.
Jiang said Zhanjiang can play a critical role in connecting the Silk Road Economic Belt and the 21st Century Maritime Silk Road, relying on the advantage of its port.
To better promote trade between the city and ASEAN, this year's Zhanjiang-ASEAN Agricultural Trade Fair to be held in May will double its exhibition area from last year's session. The exhibition period will also be prolonged from three days to four, according to the fair's organizers.
Last year's fair attracted more than 1,000 companies and institutions from 32 countries and regions as well as 21,000 professional visitors.
Source:chinadaily.com.cn