South China's Guangdong province, East China's Jiangsu province and the city of Shanghai were the three most competitive economies in 2017, according to the latest released China Provincial Competitiveness Bluebook in April.
The Bluebook, compiled by the Fujian Normal University and China Social Sciences Press, evaluated 31 provincial-level administrative regions in their economic competitiveness in 2016-2017.
The provincial competitiveness, according to Li Jianping, chief editor of the Bluebook, also former president of the Fujian Normal University, was based on the province's attraction to nationwide resources, acquisition of market share, and influence on surrounding regions.
GDP was no longer the sole metric to judge competitiveness, Li said, adding that macro economy, industrial economy, sustainable development, finance, environment, government contribution, and planning and coordination were all key criteria in evaluation.
Top winner Guangdong province ranked high in macro economy, industrial economy and knowledge-based economy, the report showed, as the province boasts more than 40,000 high-tech enterprises, with output value reaching 7.4 trillion yuan ($1.1 trillion) in 2017, up 10 percent on a yearly basis.
Besides Guangdong province, regions in the Yangtze River Delta region, including the Jiangsu province, Shanghai, and Zhejiang province all remained at the forefront. The GDP of Jiangsu province exceeded 9 trillion yuan in 2018, making it a new player in the "9 trillion yuan club" with Guangdong province.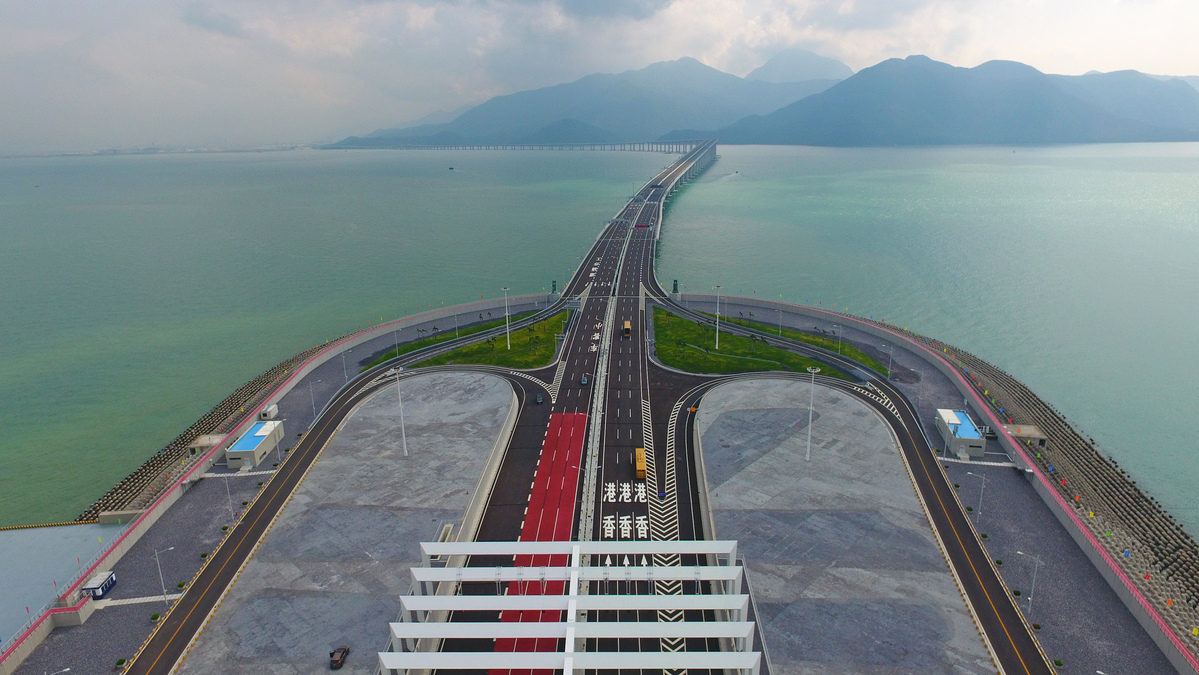 A view of Hong Kong-Zhuhai-Macao Bridge on Oct 24, 2018. [Photo/Xinhua]
Advanced manufacturing industry and sci-tech innovation saw quick growth in Jiangsu province, with output of new energy vehicles jumping 100 percent in 2018. The province had 50 projects named National Technology Prize last year, the most in the country.
According to Zhang Zhaoan, vice-president of Shanghai Academy of Social Sciences, the Government Work Report of this year has raised the integration development of the Yangtze River Delta region to the level of national strategy, which will further promote the competitiveness of the region, People's Daily reported.
Seven other regions with the most economic competitiveness among the top 10 include Beijing, Zhejiang province, Shandong province, Tianjin, Fujian province, Chongqing, and Henan province.
Rankings of five provinces and cities rose in 2017 compared with that of 2016, including Shanxi province, Shaanxi province, Chongqing, Heilongjiang province, and Liaoning province, with Shanxi province jumping four places, the biggest rise.
Six regions, namely the Jilin province, Inner Mongolia autonomous region, Henan province, Guangxi Zhuang autonomous region, Guizhou province, and Ningxia Hui autonomous region, slipped in rankings.
According to the report, the economic performance of the 31 regions remained steady during the 2016 and 2017 period, without drastic ups and downs.
However, the economic competitiveness of 31 regions was far from even, as the Tibet autonomous region, with a comprehensive score of 22.5, was less than half of Guangdong province's score in 2017.
East China remained the most developed region in 2017, with a comprehensive evaluation score of 48.6. Central China, West China, and Northeast China scored 36.9, 31.7 and 34, respectively.
However, the economic competitiveness gap between West China and East China shrunk in 2017, indicating a booming economy in the western region.
Source:chinadaily.com.cn